When the Wolf Comes – Shadow of the Demonlord meets Vikings
With the Vikingverse, Ian Stuart Sharpe has raised the question, "What if the Vikings had won?" Ian Stuart Sharpe has written two novels about the Vikingverse, The All Father Paradox and Loki's Wager, as well as a graphic novel, The Jotunn War. These works focus on an alternative history that sees the Viking culture as the dominant culture. The first chapter of the graphic novel can be read for free. This allows you to catch a first glimpse of the world and story.
This post contains affiliate links, which are marked with a "*" in the name.
Images with friendly permission of Ian Stuart Sharpe
Vikings are still a hot topic or genre in the modern media of our time. This fact can be seen in books like Norse Mythology* by Neil Gaiman, American Gods* by Gaiman and the associated TV series, as well as Vikings and similar series that have come into focus in recent years. Assassins Creed picks it up in a game and God of War also moved from the Greek to the North. In the role-playing field, there are also settings and adventures with Nordic vibes for the top dog Dungeons and Dragons 5e with Svilland* and Journey to Ragnarok*. There are also a few words about the level 1 – 20 adventure here on this blog: Review of the Norse DnD 5e Adventure "Freya's Tears".
But back to the Vikingverse. Ian Stuart Sharpe has teamed up with Robert Schwalb, author of Shadow of the Demon Lord, and written When the Wolf Comes based on that roleplaying game. The game is currently Crowdfunding bei Kickstarter. Although I love Vikings and Shadow of the Demon Lord, I can only give a small shout out to When the Wolf Comes due to time constraints to support the game.
What's inside When the Wolf Comes?
The roleplay will be based on the rules of the Shadow of the Demon Lord and will be about 250 pages long. Like the Demon Lord itself, the book comes with a description of the setting, rules for creating your own warband, and a full bestiary and notes for the GM. Unlike the Demon Lord, however, we are in a Sci-Fi game of the Vikingverse.
Yggdrasil is wounded and your warband is sent on a cosmic quest to cauterize the wound and eradicate the mistakes of the petty gods, as well as prevent the demise of the world they know.
More concretely, in When the Wolf Comes you'll find:
10 Nordic Ancestries
16 Expert Paths
50 Mythic Paths
100 new Spells and Gifts
New Gear and Vehicles
So if you're into Sci-Fi, Vikings, and a cool role-playing system, When the Wolf Comes is worth a look!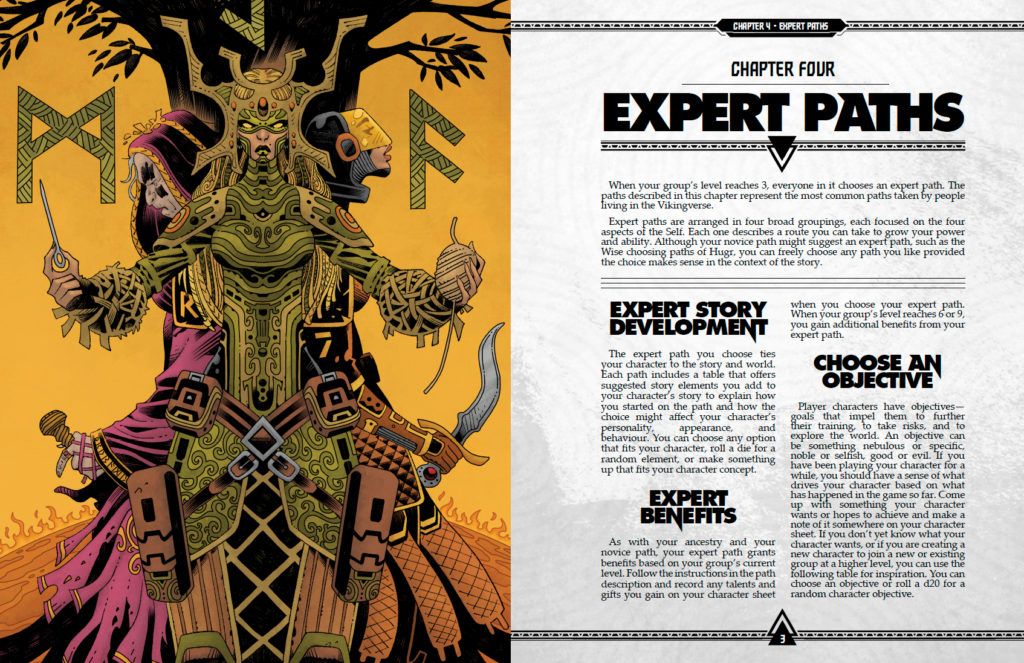 More about the Vikingverse
If you want to learn more about the Vikingverse, you should especially read the following interviews and articles as well as the first chapter of the graphic novel: